Constant Care
Your tech guy says he'll call you back in 2 hours, guaranteed. We think that's bologna.  
It's not that we don't believe he will call you back ASAP, because he probably will. But aren't you missing the point of having an IT support company? Have you ever considered that all your interactions with your IT guy are only when you are having problems? Let's be honest – that is a pretty lame relationship for anyone to have. Not to mention, in this relationship you are the one shelling out money every time you have a problem.
Our Results 
We don't measure our success like other IT support companies measure theirs.  We measure our success based on how few times you have to call us.  Your current IT company probably prides themselves with how quickly they return your calls.  Wouldn't it benefit you more if you didn't have a reason to call in the first place, rather than having a company that responds to your problems the quickest? You can expect to spend over 85% less time working with our help desk than you would with the average IT company. Do you realize how much productivity that gives back to you? The time that our help desk spends with you is drastically diminished because of our process. This isn't just our goal; it is a solution we are actually providing right now for numerous companies.
The metric we use to measure our success is called RHEM, which stands for Reactive Hours per Endpoint per Month. In other words, it is the number of hours we spend on reactive support per employee every month. In the case study below, you'll see the RHEM for three of our current clients, before and after they hired GHN. Keep in mind that the industry average is between 1.0 and 2.0, so even these companies' RHEM beforehand was below average. After GHN, however, their numbers became staggeringly low.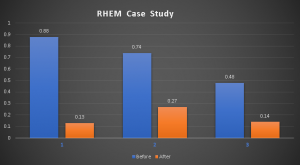 Our Approach
We believe you should not be having all those problems to begin with. Technology is a valuable tool that will either contribute to or detract from your company's day-to-day productivity, which in turn contributes to your overall success.
The problem is the mistaken belief that in order to have a strong network, the most important thing is to fix problems fast. IT companies cater to this mindset and provide what you think you need: break/fix IT support. But the fact is that this "service" they are providing is actually doing you a disservice! It is ridiculous to settle for such a low standard. For one, you shouldn't have to reach for your wallet every time you have a problem. More importantly, you shouldn't be having those problems to begin with.
That's where our solution comes in. We call it Constant Care. With Constant Care, we create the ideal technology environment for you by implementing industry-specific solutions and tailoring them to fit your company's needs.  Then we apply our finely-tuned process to eliminate those problems, so that you can get back to running your business.
Our Process
The secret sauce behind our results is that we have created processes that consistently impose order on your IT environment. When you hire us on as your IT company, we don't just come in, take a look at your network, and tell you to give us a call when something breaks. We essentially perform a never-ending network evaluation that encompasses both the technical and business aspects of your technology.
Complex systems are difficult to control. The many, many layers of functionality make your network infinitely complex. That's why you can't just put a Band-Aid on every problem that arises, and expect everything to run smoothly. Let's say your IT guy comes and fixes an urgent problem that is keeping you from doing your job. Great, right? He fixed the problem and now you can get back to work. But was the underlying issue that caused the problem really addressed? When that same problem arises, what will he have to say for himself? Nothing. He will say nothing, because his job is to fix problems. So, he will "fix" it again. And again. So then why does it matter if he responds to your problems within 2 hours, guaranteed? If you are constantly having problems, then it doesn't matter how fast he can fix them.
Once we bring order to your system, then your employees experience technology in a completely new way. You'll notice your technology begins to work for you instead of against you. Isn't that the purpose of technology in the first place? What we are doing really isn't crazy; it's common sense!